Péptidos sintéticos en el desarrollo de métodos alternativos de diagnóstico y control de virus del papiloma humano
Palabras clave:
diagnóstico, cáncer de cuello uterino, SPSS, HPV, bioreceptor
Resumen
El desarrollo de nuevos métodos y/o dispositivos para el diagnóstico de enfermedades, agentes tóxicos, contaminantes, entre otros analitos de interés ambiental, clínico y biotecnológico ha sido tema de amplios estudios que priorizan entre las diferentes interacciones que se pueden dar entre el analito y la molécula encargada del reconocimiento también conocido como bioreceptor. En esta revisión se presentan algunas estrategias se han venido desarrollando durante los últimos 20 años para la detección temprana de la infección del virus del papiloma humano. Actualmente el VPH es una de las infecciones de transmisión sexual más comunes, si bien la mayoría de las infecciones son transitorias y no causan enfermedades, algunas infecciones pueden persistir y producir cáncer de cuello uterino. Los bioreceptores más ampliamente utilizados para el diseño de nuevos métodos de diagnóstico generalmente son péptidos sintéticos derivados de las proteínas L1 del virus del papiloma humano. El desarrollo de un bioreceptor eficiente, económico, sensible y específico para anticuerpos generados por el VPH es fundamental para el desarrollo de estas nuevas herramientas de diagnóstico.   
Descargas
Los datos de descargas todavía no están disponibles.
Citas
Mehrotra P. Biosensors and their applications - A review. J Oral Biol Craniofacial Res. 2016;6(2):153-159. doi:10.1016/j.jobcr.2015.12.002.
Torres E, Mendez A. Biosensores enzimáticos. 2014;15:1-8.
Evtugyn G. Biosensors : Essentials. Kazan, Russia: Springer; 2014.
Turner APF. Biosensors: sense and sensibility. Chem Soc Rev. 2013;42(8):3184-3196. doi:10.1039/c3cs35528d.
Bobade S, Kalorey DR, Warke S. Biosensor Devices: A review on their biological applications. Biosci Biotechnol Res Commun. 2016;9(1):132-137.
Wang J. Glucose Biosensors : 40 Years of Advances and Challenges. Eletroanalysis. 2001;1312:983-988.
Howl J. Peptide Synthesis and Applications. Humana Press Inc.; 2005. doi:10.1007/978-1-62703-544-6.
Merrifield RB. Solid Phase Peptide Synthesis. II. The Synthesis of Bradykinin. J Am Chem Soc. 1964;86(2):304-305. doi:10.1021/ja01056a056.
Bruni L, Barrionuevo-Rosas L, Albero G, Serrano B, Mena M, Gómez D, Muñoz J, Bosch FX de SS. Human Papillomavirus and Related Diseases Report.; 2017. http://www.hpvcentre.net/statistics/reports/XWX.pdf.
Palefsky J. Human papillomavirus infection and its role in the pathogenesis of anal cancer. Semin Colon Rectal Surg. 2017;28(2):57-62. doi:10.1053/j.scrs.2017.04.001.
Stanley M. Immune responses to human papillomavirus. 2006;1(September 2005):16-22. doi:10.1016/j.vaccine.2005.09.002.
Organization WH. GUIDE TO CANCER Guide to Cancer Early Diagnosis.; 2017.
Organization WH. IARC Monographs on the Evaluation of Carcinogenic Risks to Humans. Vol 90 HPV.; 2007. http://monographs.iarc.fr/ENG/Monographs/vol90/mono90-6.pdf%5Cnhttp://monographs.iarc.fr/ENG/Monographs/vol100B/mono100B-11.pdf.
Valentino K, Poronsky CB. Human Papillomavirus Infection and Vaccination. J Pediatr Nursing-Nursing Care Child Fam. 2016;31(2):E155-E166. doi:10.1016/j.pedn.2015.10.005.
de Sanjosé S, Brotons M, Pavón MA. The natural history of human papillomavirus infection. Best Pract Res Clin Obstet Gynaecol. 2017. doi:10.1016/j.bpobgyn.2017.08.015.
Bernard H, Burk D, Chen Z, Doorslaer K, Hausen V, Villiers M. Classification of papillomaviruses (PVs) based on 189 PV types and proposal of taxonomic amendments. Virology. 2010;6(1):247-253. doi:10.1111/j.1743-6109.2008.01122.x.Endothelial.
Harden ME, Munger K. Human papillomavirus molecular biology. Mutat Res - Rev Mutat Res. 2017;772:3-12. doi:10.1016/j.mrrev.2016.07.002.
Beltrán-Lissabet, J.F. Aspectos generales sobre la estructura y función de las proteínas codificadas por el virus del Papiloma Humano. Revista CENIC Ciencias Biológicas, Vol. 45, No. 2, pp. 108-118, mayo-agosto, 2014..
M.E. Harden, K. Munger, Human papillomavirus molecular biology, Mutat. Res.: Rev. Mutat. Res. (2016), http://dx.doi.org/10.1016/j.mrrev.2016.07.002
Van Doorslaer K, Tan Q, Xirasagar S, et al. The Papillomavirus Episteme: A central resource for papillomavirus sequence data and analysis. Nucleic Acids Res. 2013;41(D1):571-578. doi:10.1093/nar/gks984.
Organization WH. Comprehensive Cervical Cancer Control: A guide to essential practice. WHO Libr. 2014.
Snodgrass R, Naugler C. Use of the Papanicolaou Test in Women Under 25 Years of Age in Southern Alberta. J Obstet Gynaecol Canada. 2014;36(4):320-323. doi:10.1016/S1701-2163(15)30607-1.
Waxman AG, Zsemlye MM. Preventing Cervical Cancer : The Pap Test and the HPV Vaccine. 2008;92:1059-1082. doi:10.1016/j.mcna.2008.04.012.
Molijn A, Kleter B, Quint W, Doorn L Van. Molecular diagnosis of human papillomavirus ( HPV ) infections. 2005:43-51. doi:10.1016/j.jcv.2004.12.004.
Gnanamony M, Peedicayil A, Subhashini J, et al. Gynecologic Oncology Detection and quantitation of HPV 16 and 18 in plasma of Indian women with cervical cancer. Gynecol Oncol. 2010;116(3):447-451. doi:10.1016/j.ygyno.2009.10.081.
Rasooly A, Jacobson J. Development of biosensors for cancer clinical testing. 2006;21:1851-1858. doi:10.1016/j.bios.2006.01.003.
Buck CB, Day PM, Trus BL. The papillomavirus major capsid protein L1. Virology. 2013;445(1-2):169-174. doi:10.1016/j.virol.2013.05.038.
Mitchell AR. Studies in solid-phase peptide synthesis: A personal perspective. Biopolymers. 2008;90(3):215-233. doi:10.1002/bip.20812.
Vergel Galeano CF, Rivera-Monroy ZJ, Rosas-Pérez JE, García-Castañeda JE. Efficient synthesis of peptides with 4-methylpiperidine as Fmoc removal reagent by solid phase synthesis. J Mex Chem Soc. 2014;58(4):386-392.
Lang Kuhs KA, Pawlita M, Gibson SP, et al. Characterization of human papillomavirus antibodies in individuals with head and neck cancer. Cancer Epidemiol. 2016;42:46-52. doi:10.1016/j.canep.2016.03.003.
Sethi S, Müller M, Schneider A, et al. Serologic response to the E4, E6, and E7 proteins of human papillomavirus type 16 in pregnant women. Am J Obstet Gynecol. 1998;178:360-364.
Wideroff L, Schiffman M, Haderer P, et al. Seroreactivity to human papillomavirus types 16, 18, 31, and 45 virus-like particles in a case-control study of cervical squamous intraepithelial lesions. J Infect Dis. 1999;180(5):1424-1428. http://www.ncbi.nlm.nih.gov/entrez/query.fcgi?cmd=Retrieve&db=PubMed&dopt=Citation&list_uids=10515799.
Santamaria H, Manoutcharian K, Rocha L, et al. Identification of peptide sequences specific for serum antibodies from human papillomavirus-infected patients using phage display libraries. Clin Immunol. 2001;101(3):296-302. doi:10.1006/clim.2001.5126.
Rocha-Zavaleta L, Ambrosio JP, de Lourdes Mora-Garcia M, et al. Detection of antibodies against a human papillomavirus (HPV) type 16 peptide that differentiate high-risk from low-risk HPV-associated low-grade squamous intraepithelial lesions. J Gen Virol. 2004;85(9):2643-2650. doi:10.1099/vir.0.80077-0.
Jeong N-H, Lee N-W, Woo M-K, Kim H-J. Serologic response to human papillomavirus type 16 virus-like particles in Korean women with cervical precancerous and cancerous lesions. Arch Pharm Res. 2009;32(3):383-389. doi:10.1007/s12272-009-1311-1.
Liu G, Markowitz LE, Hariri S, Panicker G, Unger ER. Seroprevalence of 9 human papillomavirus types in the United States, 2005-2006. J Infect Dis. 2016;213(2):191-198. doi:10.1093/infdis/jiv403.
Urquiza M, Guevara T, Espejo F, Bravo MM, Rivera Z, Patarroyo ME. Two L1-peptides are excellent tools for serological detection of HPV-associated cervical carcinoma lesions. 2005;332:224-232. doi:10.1016/j.bbrc.2005.04.115.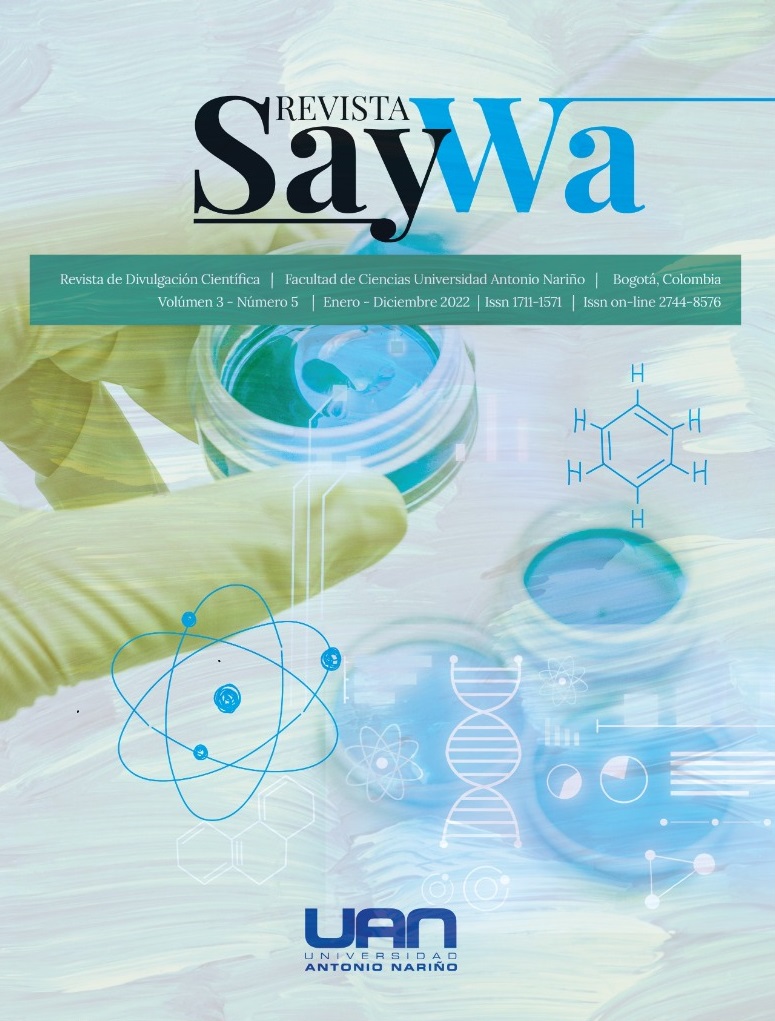 Descargas
Cómo citar
García Contreras, G. A. (2023). Péptidos sintéticos en el desarrollo de métodos alternativos de diagnóstico y control de virus del papiloma humano. REVISTA SAYWA, 4(5), 47–56. https://doi.org/10.54104/saywa.v4n5.1590
Licencia
Derechos de autor 2022 Germán Antonio García Contreras
Esta obra está bajo una licencia internacional Creative Commons Atribución-NoComercial-CompartirIgual 4.0.